Often Imitated, Never Douplicated.
I don't understand Hollywood today. It seems that every day, some asshole producer decides that he/she is going to either a) remake a classic film or b) take a classic book and turn it into a movie. Success? Sure. Everyone floods the box office. However, what message are we relaying to the youth, who already has it bad enough growing up on shows like Spongebob and Doug+Rugrats with different character voices. Now instead of using their imagination and the pages of the book to know the Cat In The Hat story, they must rely on this???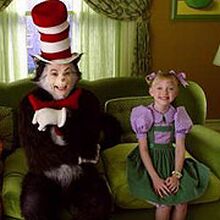 This is Mike Myers!! I wish these actors would have some sense and realize that there is no place in Hollywood for a Cat In The Hat movie, especially now (where we can assume that there will be no magic in it). As you may have guessed, this rant is brought on by the new Willy Wonka flick.
I could go on to write pages of complaints with this movie, but I will start with some positives. Visually, the movie is amazing. Lots of high contrast shots that remind me classic scenes like the red and white bathroom in Silence of the Lambs. However, the characters in this new one are horrible... Especially Willy Wonka. It is Johnny Depp, playing that same role he has been playing since Fear and Loathing. Also, there is no sense of a genuine person behind the darkness, like in the original. In this flick, Wonka just seems like a creeper.
Apparently, I'm not the only one who hates on remakes.
MSNBC
Classicmovies.org